Laminate Flooring in Torrance, CA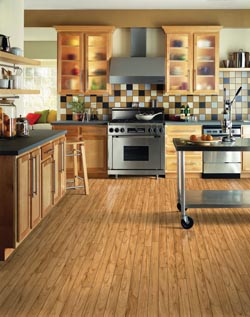 Like most people, you probably have a list of requirements in mind when you're shopping for new flooring. Updating the flooring in your home or office is a vital part of its upkeep; so of course you don't want subpar materials and installation. You want flooring that is just as attractive as it is affordable, and as tough as it is easy to maintain. These are the spaces where you spend the most time. So making them as beautiful, comfortable and practical as possible is your—and our— top priority. Our flooring store has exactly what you are looking for—top-quality and affordable laminate flooring.
When it's time to overhaul your floors, step into our beautiful flooring showroom to see the hundreds of styles, colors and patterns of laminate wood flooring that we have available. If you are unaware of the latest developments in laminate, ours is the right store for you. Our knowledgeable sales specialists are here to help you find the right laminate that meets all of your home or office's aesthetic and practical needs.
Our Laminate Options: The Look of Real Stone and Wood
Our affordable laminate offers the most versatile flooring options available. Due to today's technology, laminate now effectively imitates organic materials at a fraction of the cost. You can choose laminate wood flooring that looks like real hardwood, right down to the whorls, swirls and grain of actual hickory, oak and more. We also have multiple color options to choose from so you can pick the right flooring that will go with your vision. How about laminate tile flooring that mimics natural stone or gorgeous ceramic tile? You can upgrade your floors with the look of slate or marble without putting your project over-budget.
Enjoy the classic elegance of tile at a more affordable cost by selecting laminate tile flooring for your home. You can easily get the look of high-end ceramic or porcelain tile with our laminate tile flooring options. With multiple colors and patterns to choose from, we're positive that we'll have the right flooring for your space. With advances in manufacturing, our name-brand laminate looks more attractive than ever. Laminate combines the beauty of tile or wood with the durability and easy maintenance of this always-popular flooring option. Visit our showroom to see samples of our selection from such top brand names as:
Floorcraft
Mannington
Mohawk
Shaw
Affordability is only part of the advantages of this flooring type. Laminate gives you the look of natural materials, but at a reduced price. Laminate manufacturers accomplish this feat by applying a high-resolution photo to an innovative three-layer material that's just as durable as it is comfortable to walk on.
However, laminate offers so much more. Laminate floors are high-performance products that are ideal for busy households. Our laminate withstands years of foot-traffic. Extremely resistant to scuffs or stains, laminate is the right flooring option for people with children, pets and heavy foot traffic. Our laminates don't require more than a routine sweeping and mopping to look fresh and new for years to come. Laminate is made of strong materials that resist moisture, stains, scuffs and scratches. So when you buy laminate, you can be sure you're investing in a great product that will last.
Quality Installation and More
Ask us about our professional laminate flooring installation service. If you choose laminate that resembles hardwood, then our flooring technicians work with tongue-and-groove or click-and-join planks. If you choose stone or tile, we install squares that look like just like tile. Our highly experienced installation team matches the right technique with the right laminate style for a truly natural-looking effect. Your new laminate floor is sure to enhance your interior design no matter what kind of decorative motif you have.
Whatever pattern you choose, our technicians prepare the subfloor properly and then lay the laminate over it, taking care to make sure everything is flat and even. When laminate is installed properly and professionally, it lasts for many years. As is the case with any flooring option, installation presents certain difficulties that require professional attention to prevent the common pitfalls that can compromise the appearance and durability of the material. Fortunately, our experienced team knows how to install laminate floors promptly and efficiently, so you can start enjoying your new floors as soon as possible.
It's easy to get excited about the unbeatable value of laminate flooring. And no one will complain about how easy it is to clean and maintain. However, laminate flooring's diversity of visual selections means that it is unique among flooring options, and it has the most to offer your home's indoor design. Whatever ambiance you want to establish, there is a laminate available to complement and enhance your design vision. Let us help you get started on your laminate flooring installation project today—your home or office will look better than ever, guaranteed.

Want to learn more about laminate flooring options available at our store? Contact us for additional information. We proudly serve the communities of Torrance, Palos Verdes, Rolling Hills, Lomita, and Rancho Palos Verdes, California.