Tile Flooring in Torrance, CA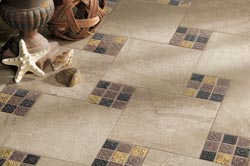 When you need a flooring option for style and longevity, choose tile, a long-lasting flooring solution for your home. Your decision should rest on three considerations: durability, affordability, and style. One of the best ways to satisfy all those needs is to consider tile flooring. Rely on our reputable flooring store to set your home up with the highest-quality ceramic, porcelain tile, or slate tile flooring. Rely on our reputable flooring store to set your home up with the highest quality tile flooring installation.
Not only is tile long-lasting and wear-resistant, but it also gives your home a stylish upgrade. Along with these advantages, tile flooring installation is speedy and affordable, with the lifetime advantage that provides added value over time. Tile flooring can be one of the greatest investments you can make in any room of your home because it is easy to maintain and looks impressive.
Consult with the experts on our interior design team for tips. Our professionals offer excellent layout recommendations for any type of room. We can help you create a floor design that will enhance the look of a room's décor and furniture. Whether you are updating your living room, kitchen, or sunroom, let us help you. We have an eye for floor design.
We especially recommend our service for you if you have ideas already in mind. Our team can help you flesh your ideas out, so you can make them into reality.


The Classic Elegance of Ceramic Tile
Consider ceramic tile. Since ancient times, it has been recognized as one of the most versatile tile flooring installation options. History's most skilled architects used it whenever beauty needed to be wedded with durability, and this use continues today. With modern fabrication techniques, it can be easily created in a variety of colors, shapes, and styles to fit any space. As well, it is quite affordable per square foot, and the relative ease of installation makes for savings in time and labor costs.
Ceramic tile is also the low maintenance option. Whether in the kitchen or the bathroom, its protective glazing means it doesn't absorb water or stain. Mopping on a regular basis will keep the tile looking fresh, while a sponge can remove any stains in the moment. The durability of this tile means that your flooring will last a long time. Even if a single tile were to be damaged, replacement is an easy fix.


Durable Porcelain Tile for Style & Longevity
Porcelain tile is a great option for rooms with heavy traffic. Not only does it resist stains, scratches, and moisture, it is also frost resistant. This makes porcelain tile a great choice for those indoor/outdoor spaces of your home. When properly prepared, it is also even more resistant to breaking than some of the other tile options. Count on our flooring experts to provide you with this aesthetically pleasing flooring. Let our trained technicians provide you with proper tile flooring installation to ensure your home gets the look and longevity you seek.


Slate Tile Flooring Upgrades Any Room
Get the slate look without the hassle. By turning to our store, you are able to buy slate tile flooring that comes in a variety of stunning looks. Each of the options we have for sale will look great in your home. We have different colors, textures, and designs that will never wear out or fade.
Unlike our competitors, our slate tiles can be purchased in different sizes as well. No matter if you need to cover the floor of a small, medium, or large-size room, we have the size to help you get the job done. Work with our experts today to find the perfect tile to have installed in your residence.


Complete Tile Flooring Installation
Ensure your flooring is installed properly with the help of our experts. When you turn to us for tile flooring installation, you'll be able to have your surface material put in accurately. You don't have to worry about having the material cut to size. Our products come in pre-cut options, so they can be put in easily. With us on the job, our experts will make sure to lay down the products the right way to achieve a professional look. We want to leave your floors looking as beautiful as possible. This way, you're able to complete your home renovation project.


Keeping Your Tile's Grout Spotless
Cleaning your grout is very important to maintaining the look of your tile flooring. Dirt and dust can settle on ceramic and porcelain tile flooring, as well as grout over time. To remove the buildup, simply create a mix with equal parts hydrogen peroxide and water. Apply it in-between your tiles; then, scrub with a cleansing brush. Once done, pat the area to dry. You'll then have a nicely clean floor that will look like new.



Contact us today to find the great tile flooring solution that will upgrade your home or office. Maxwell Brother's Flooring America proudly serves Torrance, Palos Verdes, Rolling Hills, Lomita and Rancho Palos Verdes, California.